Elinchrom ELB 400 Hi-Sync TRy Before You Buy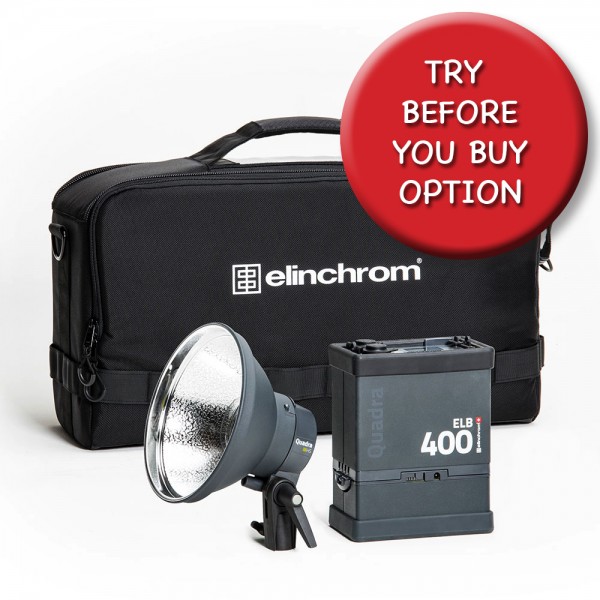 CONDITIONS: All Try Before You Buy items can only be hired for a one day period period.

Hi-Sync is the exclusive Elinchrom technology that goes beyond the X-Sync of your Nikon or Canon DSLR camera. With this technology you can now sync your DSLR camera with the Elinchrom Quadra HS Flash Head up to 1/8000s shutter speed, when coupled with a Hi-Sync compatible radio trigger. For best results use the Elinchrom Skyport Plus HS Transmitter. With this technology you will be able to freeze action, darken backgrounds and overpower the sun at small apertures, and blur backgrounds at wide apertures without over exposure.
Specifically designed for photographers who travel light whilst packing enough power to overpower the sun, the ELB 400 builds on the Elinchrom Quadra experience. The built in Skyport system enables seamless synchronisation between your camera and the ELB 400 whilst the OLED display features a rich and quick access to all features.

The Quadra Hi-Sync head is a powerful full-functioning miniaturized flash head. Built to be as portable as possible and weighing only 0.28 kg (0.62 lbs.), this head not only packs well but it is mountable in situations that would be impossible for a full-sized flash head. It also integrates a daylight balanced LED modelling lamp that produces the equivalent of 50W of tungsten light output. The HS designation denotes the system's optimised head for Hi-Sync photography such as high shutter speeds or overpowering the sun and limits the gradient effect to a maximum.

For help deciding which ELB 400 Head (Action, Pro, Hi-Sync) is right for you, please read the Elinchrom guide HERE.

What's New? - This ELB 400 set now includes a high quality ProTec Location Bag dedicated to portability, which is fully adaptable to your needs. Furthermore, all sets now come with the very handy Quadra 18cm Reflector, which will give you an extra stop of light efficiency, and accepts Elinchrom 18cm grids (sold separately).

ELB 400 Key Features:
Tiny flash heads with full sized performance
20% faster recycling than the Quadra Hybrid, 1.6s at full power
Expansive power range, 7- 424Ws
350 full power flashes from one charge
OLED display with intuitive control
Three special flash modes; Strobo, Sequence and Delayed
Battery Rescue Feature, restore your discharged Lithium-ion batteries
Rugged design
50w equivalent LED modelling lamp (continuous option)
Versatile range of portable accessories, including the reflector adapter which accepts the whole Elinchrom accessories system