Elinchrom Indirect Deep Octa Softbox 150cm with Elinchrom Speedring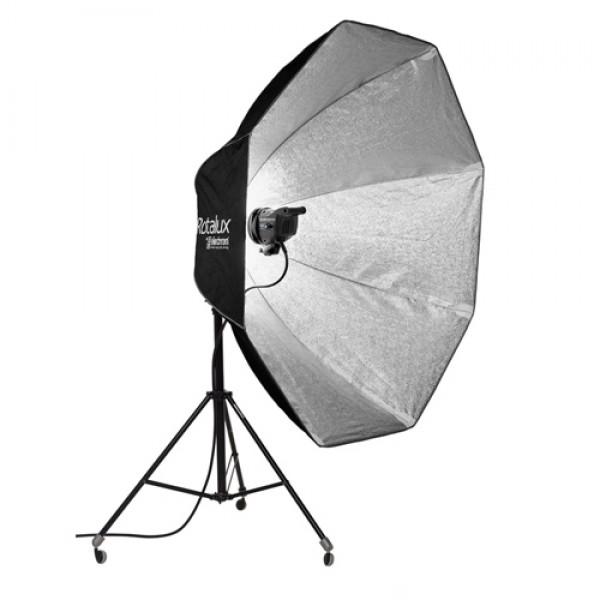 The unique Elinchrom Rotalux Indirect Deep Octa 150cm Softbox accepts an indirectly, internally fitted flash unit which can be also conventionally directly fitted with the included extra Elinchrom Speed Ring. This design offers a superb crispy light, when used without a front diffuser and can be modified to a soft light with softer shadows by using the included diffuser. Just like other Rotalux softboxes, the units folds down like an umbrella and is easily transportable.
Features:
New Rotalux softbox with central adapter ring, to fit Elinchrom compacts or flash heads indirectly.
The combination of the deep shape and the indirect reflecting flash light offers a crispy, directed illumination for many applications such as beauty and fashion.
Excellent finish of the Rotalux reflector tissue with grey piping for better light efficiency.
Internal & External diffuser supplied to soften the light.
360° revolving system.
Folds down like an umbrella, without dismounting the softbox.
Padded carrying bag for a folded Rotalux is included.
Optional Hooded Diffusers (26771) to control the light spread, are available for the Rotalux Indirect 150.

Indirect or Direct?

Rotalux Indirect softboxes (beginning from September 2011) offer an extra Speed Ring is included for a direct mounting, like Rotalux softboxes.
Depth: 73 cm total depth with tilthead and handle approximately 96 cm.
Note: Requires use with a heavy duty stand like a 008 Cine Stand or c Stand. Does not include Flash heads and stand illustrated
The Elinchrom Rotalux series of softboxes have some optional accessories to help soften or control light.
The optional deflector set takes advantage of the unique Elinchrom central shaft to modify the softness / hardness and colour like no other softbox system.
The optional Hooded Diffuser

limits the spread of light for a more directed light control.